Questions and Answers
What do I get as an LFA member?

You will have access to a comprehensive learning system for the duration of your LFA membership which includes follow-up videos, interactive checkpoints, regular consultations, and video conferences.
The different memberships allow you access to different parts of the learning system.
Who will respond to my interactive videos, rehearsals, and consultations?

Honza BLaha himself will always be the one who responds to your questions or makes comments on your videos. What makes this LFA program unique is the direct guidance of a world-renowned trainer, who does not delegate to his advanced students, but guides everyone personally.
How do I purchase lessons?

On the main Line Free Academy page you can find the membership options with baskets by them. Choose the one that you are interested in purchasing and click on the basket. Follow the prompts to pay for the membership. This will give you access to LFA and the entire learning system.
I can't see my lessons or I can't buy or open them
Make sure you are logged in (In the mobile version, there will only be a login icon in the upper right corner. In the full version on your computer, your name will also be there.)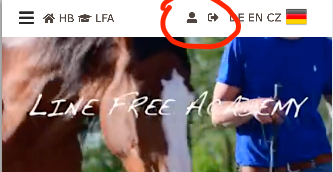 Click on the icon or your name to see your profile. There you will also find a list of lessons you have purchased and a list of purchased exams.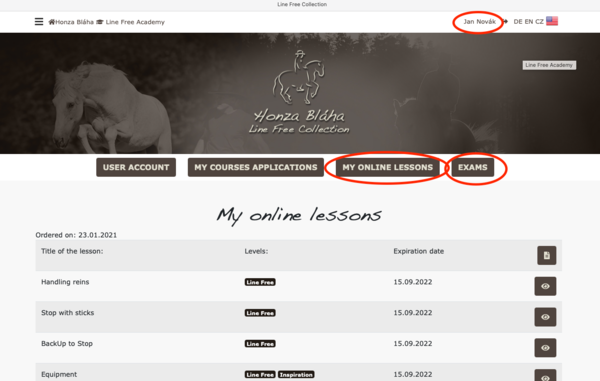 There's a lock on the lesson

The lesson is locked because the checkpoint required for the advanced lesson has not been achieved. If you hover over the lesson with the lock and wait a moment, you will see why the lesson is locked. Clicking on the locked lesson will take you to the checkpoint, which should be completed.
What is a checkpoint?

A checkpoint is a lesson in which you can send a video of your horse to Honza, taken e.g. with a mobile phone. The video must contain the exercises that the checkpoint is about.
If you execute the exercises perfectly, Honza will review it and your checkpoint will be passed. Then, more advanced lessons will be unlocked and you can continue your training.
Or you can post a problem you are having with your horse regarding the completion of the checkpoint and Honza will review the video, giving suggestions about what he would do in that case.
The checkpoint video should only include exercises relevant to the checkpoint. If you need to discuss another topic, you can use the "Video Consultation" or "Video Conference" lesson.
How many times can I send a video?

Every type of membership has a set number of interactions that you can send. You can use these interactions for either a consultation or to pass a checkpoint. If you run out of interactions, you can upgrade your membership.
I am an advanced student and want to skip the basic lessons, can I do this?

Yes, you can skip lessons. Just complete the checkpoints and submit a perfect performance of each one that you'd like to skip. Honza will check everything and unlock more advanced lessons or checkpoints for you.
Why do I have to go through checkpoints?

LFA is a comprehensive system of exercises that leads to the true art of working with a horse. Checkpoints are set at the most important milestones. Through these, Honza can be sure that both horse and student understand the exercises and are ready to move on.
Feedback directly from Honza will help you to get true results with ease and delve into the depth of the relationship between man and horse. This applies to more advanced students as well. Many times, they will discover things that they may have missed that may be making their current training more difficult.

"The beginner wants to become advanced as soon as possible, while the master goes back to the basics."
I don't have a card, can I pay another way?
Yes, you can send money on account. Email your order to info@honzablaha.cz. Other payment options are being investigated.
Does LFA also include working under saddle?

Yes, LFA is a comprehensive system of exercises that leads to the true art of working with the horse in all spheres. The following diagram will give you an idea of the areas you will cover in LFA.
Why do we start at LineFree with a lead-rope?

Honza's first priority is safety. For both horse and human, Honza has found through years of experience that many people who want to train LineFree have a horse that doesn't understand basic obedience, isn't motivated to cooperate, and can even be "difficult".
Safety as a first priority leads to breaking down the fears in both man and horse which leads to the creation of the LineFree communication space to which this school is dedicated.
What does the expiration date mean?

The expiration date is the length of time you have paid for your LFA membership.
Can I set up automatic renewal of lessons?

No, this is not possible.
Is the payment secure?

Yes, the payment is under the control of the "Československá obchodní banka", which will pass on the information for proccessing. Line Free Academy does not have any access to your card details.
Refunds

Refunds are not possible.
Termination of membership
To terminate your membership, please email your request to info@honzablaha.cz from the email used to register. Please include your email and name in your request.
What if I interrupt my studies, my membership expires and I want to return to my studies?

No problem, you can renew your membership at any time and pick up where you left off.