Questions and Answers
Where can I find On-line Academy?
Clicking on the Line Free Academy link in the first line or on the banner always returns you to the Academy lesson overview.

Who will respond to my interactive videos, rehearsals & consultations?

Always Honza Bláha personally. The advantage of his online school is this personal approach and guidance of all students.
How can I buy lessons?
In the Academy, find a lesson that interests you. A translucent shopping cart on it means you haven't purchased it yet. Click on it...

and a menu of options will open up for you to purchase the lesson. You can buy just the lesson itself or the whole package of lessons at a discounted price. Packages can also include exams with different numbers of attempts to complete, which represents an even bigger savings. You can also purchase interactive packages on the main page in the bottom row: "Interactive modules".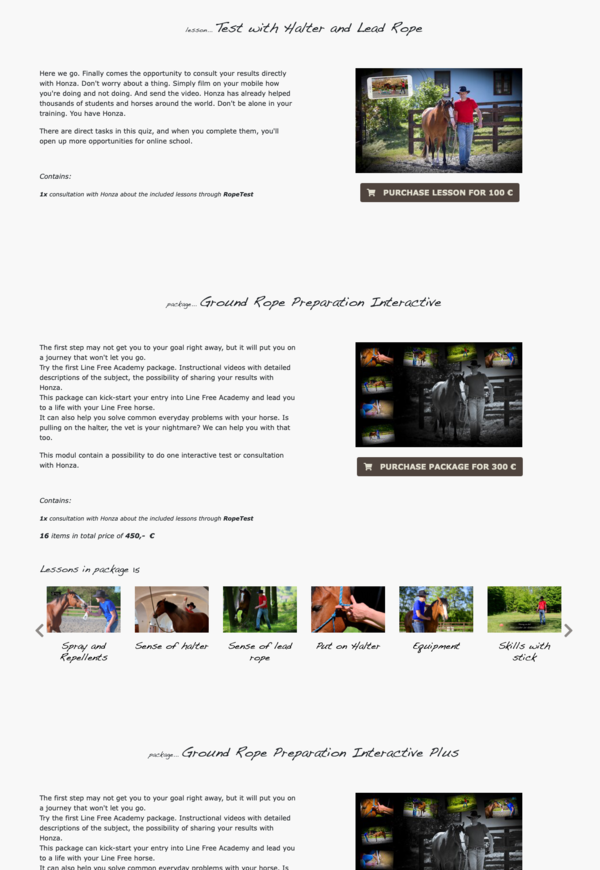 What's an interactive package?
Interactive package is a lesson which contains possibilty to send your video to Honza for a consultation or as a proof of your achieved skill - exam. It is up to you, how you will use this interaction.
I can't see my lessons or I can't buy or open them
Make sure you are logged in (In the mobile version, there will only be a login icon in the upper right corner. In the full version on your computer, your name will also be there.)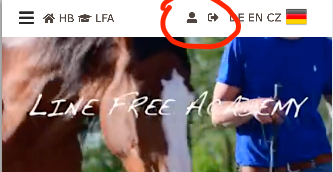 Click on the icon or your name to see your profile. There you will also find a list of lessons you have purchased and a list of purchased exams.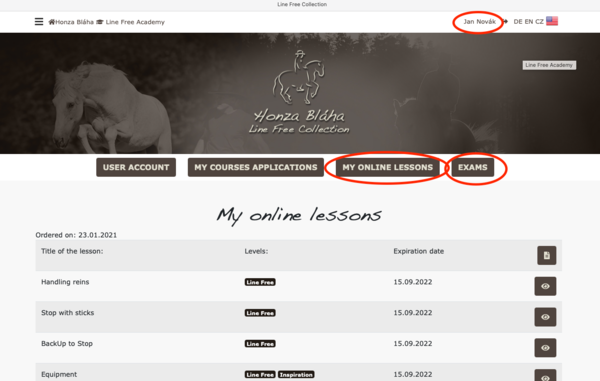 There is a lock on the lesson
A lesson is locked because the exam required for that lesson has not been completed. If you hover over the lesson with the lock and wait a moment, you will see why the lesson is locked. Clicking on the locked lesson will take you to completing or purchasing the prerequisite test.
What is a exam?
An exam is a lesson in which you can send Honza a video of your horse taken with e.g. a mobile phone. The video must contain the exercises required for that exam.
You can upload a perfect execution of the exercises. Honza will check everything and your test will be passed. This will unlock more advanced lessons for purchase and other exams.
You can also submit a problem you are having with your horse regarding passing the exam. Honza will review the video and give you advice to fix the problem.
Only include exercises related to the exam in the exam video. If you need to consult another topic, you can use the "Video Consultation" lesson. There you can open any topic that interests you.
How many times can I upload a video?
Each exam comes with a certain number of attempts you can submit. If you want to send another video after you have exhausted all attempts, you will need to purchase the the exam again - purchase another interaction.

I'm an advanced student and want to skip the basic lessons, how do I do that?

Yes, you can skip lessons. All you have to do is purchase a one-attempt exam and submit a perfect performance on that exam. Honza will check everything and unlock more advanced exams for you.
Why do I have to take the exams?
Honza wants to do everything he can to ensure your success and ease of progression. The exams are built to make absolutely sure you are ready for the next lesson. This eliminates missed fundamentals for advanced students and allows us to cover the really advanced exercises in the advanced lessons.
With Honza, a simple rule applies: "If you can show me a perfect exam, you may skip to the next lessons."
I don't have a card, can I pay another way?
Yes, you can send money on account. Email your order to info@honzablaha.cz. Other payment options are being investigated.
Does the Academy also include work from the saddle?

Yes, it does. As soon as you pass the "Test with Halter and Lead" you will unlock Riding and LineFree lessons.
Why do we start with LineFree with halter and leadrope?
Because Honza's priority is safety. Through years of experience, he has found that many people want to train LineFree, but their horse lacks basic obedience, is uncooperative and sometimes dangerous. Once your horse is safe, both from the ground and from the saddle, we'll jump into LineFree
With Honza, a simple rule applies: "If you can show me you have completed the prerequisites - you may continue forward."
What does the expiration date mean?
The expiration date indicates the length of time you have access to the online lessons and tests you have purchased. This time period is automatically extended for all purchases every time you purchase additional lessons or tests. This means that you will always see all your purchased content until the expiration date of the most recent purchase. This does not change the number of attempts of interactive lessons.
Can I set up automatic renewal of lessons?

No, this is not possible.
Is the payment secure?

Yes, the payment is under the control of the "Československá obchodní banka", which will pass on the information for proccessing. Line Free Academy does not have any access to your card details.
Refunds

Refunds are not possible.
Termination of membership
To terminate your membership, please email your request to info@honzablaha.cz from the email used to register. Please include your email and name in your request.
What if I discontinue my studies, my lessons expire and I want to rejoin?
No problem, any purchase of another lesson will automatically extend the expiration of all the others, even if they have previously expired.